The Matrix Quality standard was awarded to EDT for the quality of information, advice and guidance (IAG) we provide.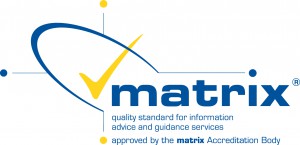 The award is the national quality standard for any  organisation that delivers information, advice and guidance on learning and work. The eight elements of the standard cover the quality of IAG provided to learners and potential learners, together with the management and quality systems that review and seek to improve the services provided.
The accreditation assessed the quality of delivery to the customers receiving employment support and those receiving adult further education training. 
The accreditation also assessed, through direct feedback, the quality of the services and how information is shared with all partner organisations. An important part of the process is the use of learner feedback. As well as recognising the high quality of IAG at edt, the flexible standard is also a requirement for many SFA (Skills Funding Agency) and ESF (European Social Fund) funded contracts. EDT achieved the award after being given a rigorous assessment which reviewed all aspects of the our IAG provision.
---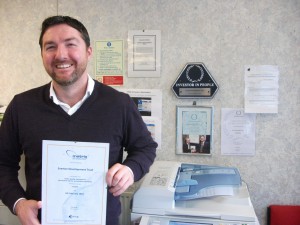 Achieving The Matrix Standard is excellent news for us. ..the assessment highlighted many areas of good practice in IAG advice and will help us to improve our services even more.
- Chief Executive of EDT, Andrew Williams,
---
Benefits of the Matrix Standard
There are many benefits to working towards Matrix Accreditation, listed below are some benefits that organisations have pointed out.
Improved systems.
Resources better deployed.
Growth in internal capacity and productivity.
Continuous improvement as a way of life.
Robust relationship between strategy and operations.
A boost to confidence and competence.
Improved team working.
A valuable feel-good factor.
Clear payback on the investment in information, advice and guidance support.
The Matrix Standard can be used by a variety of organisations including: Training Providers, Universities, Further/Higher Education Colleges, Schools and Academies, Sole Traders, Next Step Providers, Voluntary and Community Organisations and Private Businesses.
Organisations are awarded the accreditation when they have shown that their IAG service/s meet the Matrix Standard. There are currently 2084 organisations accredited to the Standard.
---